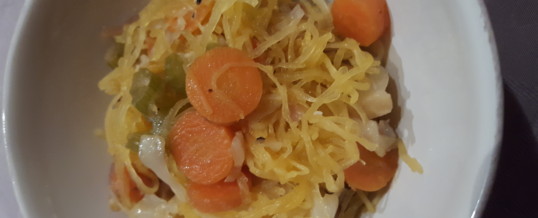 A Delicious easy to make, paleo, gluten free, grain free dish.
Ingredients
1 large spaghetti squash
1/4 cup COCONUT AMINOS (or tamari if not paleo)
3 cloves garlic, minced
1 tablespoon COCONUT SUGAR (I used 1 tsp of local honey)
2 teaspoons freshly grated ginger
1/4 teaspoon white pepper (or black pepper!)
2 tablespoons OLIVE OIL
1 onion, diced
3 stalks celery, sliced diagonally
2 cups cole slaw mix (shredded cabbage and carrots)
Instructions
Cut a spaghetti squash in half length wise ...
Continue Reading →
Share